Immediate neighbourhoods of Roquemaure
At the East: The River
On the 3 other sides: The Vine

… an attaching landscape where the vine, in slopes, extends on small valleys, in combes, sometimes in terraces.
Olive-trees, cypresses and scrubland cohabit there in perfect harmony, close to some rock or rocky escarpments where thyme, boxwood and rosemary nest.
. .un landscape with in backdrop to the east a true picture : the Ventoux Mount, laces of Montmirail and the walls of Chateauneuf du Pape

Driving, walking or cycling *, it is here a must to see at least once this typical landscape of Gard of Provence one day when the Mistral blows (or the following day) when the wind leaves behind him a sky of an incomparable luminosity
Two small tours...

Around Roquemaure west side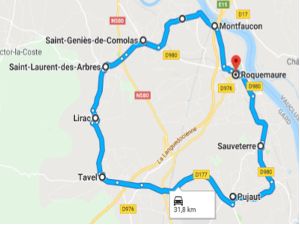 This small circuit makes discover the immediate surroundings of the village and already, for the amateurs, some cellars famous (Lirac, Tavel,..).
-Montfaucon, at the food of its medieval castle (...we don't visit). Go up to the promontory of the San Maur's chapel
-St Géniès. Botanical trial of "Notre Dame de Comolas"
-St Laurent de arbres . Ribas tower et keep of the castle.
-Lirac. Ride to the " sainte Baume "chapel
-Tavel. Old village
-Sauveterre .ride ont the " Roquemaurette" (path)
Around Roquemaure East side
Late afternoon gateway to Châteauneuf-du-Pape
Chateauneuf is 4.5 Km far to the crow flies, 10 by the roads
The little path we purpose hereunder is volontary longer...!
We suggest to do that a sunny day, at the end of the afternoon when the sun illuminates perfectly the ''Mont Ventoux" and the "Dentelles de Montmirail" on the horizon.
From Roquemaure, go towards Orange. After the first roundabout, after crossing the Rhône river drop on your right the road to Chateauneuf-du-Pape and continue to the next roundabout.(after the carrier) On the roundabout take the 2d exit to Courthezon ... On next roundabout straight ahead to Courthezon...
At the next crossroad ("Chemin de Beauregard " at the left, "Chemin des mulets" at the right) Take right .
From this point, you are allowed to loose yourself on the vineyard ! The only game consists to reach Chateauneuf-du-Pape... if posssible crossing any small valley ,and stand a moment on the ground.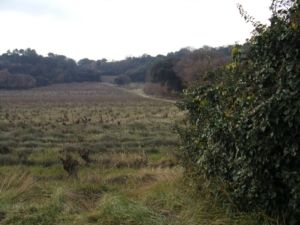 In Chateauneuf, visit the old village. Very nice point of view ont the hill of the castle
Why not a dinner with a glass of Chateauneuf ?
Other courses:
tourist office of Roquemaure

Return Tourism &walks
---
---