Immediate neighbourhoods of Roquemaure

At  the East:  The River
On the 3 other sides: The Vine

… an attaching landscape where the vine, in slopes, extends on  small valleys, in combes, sometimes in terraces.
Olive-trees, cypresses and scrubland cohabit there in perfect harmony, close to some rock or rocky escarpments where thyme, boxwood and rosemary nest.
. .un landscape with in backdrop to the east  a true picture : the Ventoux Mount, laces of Montmirail and the walls of Chateauneuf du Pape
 
Driving, walking or cycling *,  it is here a must to see at least once  this typical landscape of Gard of Provence one day when the Mistral blows (or the following day) when the wind leaves behind him a sky of an incomparable luminosity.

The course below is extracted from a proposal of the tourist office of Roquemaure:
















 This small circuit makes discover the immediate surroundings of the village and already, for the amateurs, some cellars famous (Lirac, Tavel, Laudun…)

* Directly delivered to your studio, bicycles can be rented for a day or a week by the store SPORT SHOP in Orange. (precise coordinates and price in the studio booklet )

Other courses:

tourist office of Roquemaure
 
The roads of the Wines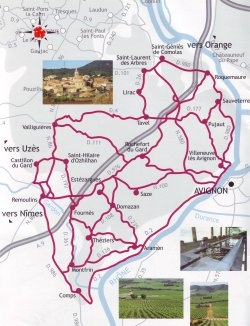 Located itself on the  Pourpre ( purple ) route , published opposite by the "inter-profession" of wines AOC Coasts of the Rhone, Roquemaure is also ideally located to the access to the other routes.

Azur( azure ) route  by Chateauneuf du Pape 10 km East
 Indigo( indigo ) route by Orange 10 km North-East
( Cairanne, Rasteau, Ste Cécile...)
Emeraude ( emerald green )  route by Codolet  15 km North-West  ( Laudun, Orsan, Chusclan...)
Turquoise ( turquoise) route by Sarrians 30 km East  ( Gigondas, Vaqueyras, Beaumes de Venise...)
....Bur yet on the spot :
Some 63 medals in famous contests in  Paris and Mâcon
        Did you like this page ?